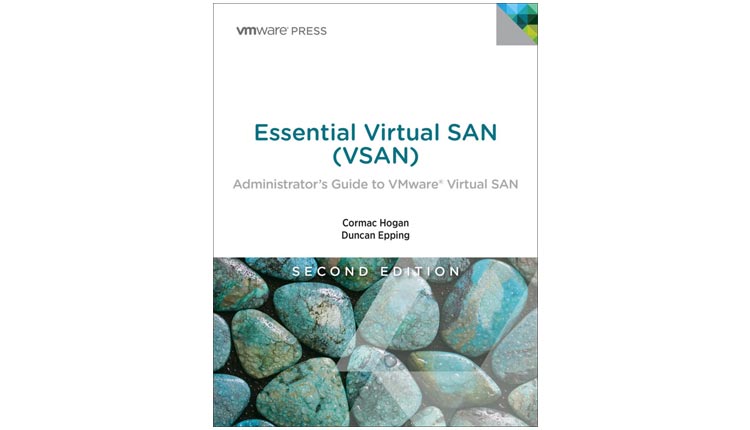 VMware Virtual SAN، یک راهکار ذخیره سازی نرم‌افزارمحور VMware، برای زیرساخت های فوق‌همگرا یا (Hyper-Converged Infrastructure (HCI محسوب می گردد که به‌صورت یکپارچه در Hypervisor قرار دارد. در واقع Virtual SAN یک Shared Storage با عملکرد بالا و آمادگی سازمانی به ماشین‌های مجازی VMware vSphere ارائه می‌دهد. این راهکار از اجزاء سخت افزاری ۳۲ بیتی استفاده می‌کند که به‌راحتی با TCOهای بسیار پایین‌تر (حداکثر ۵۰ درصد) مقیاس‌بندی می‌شوند. یکپارچگی کاملِ این تکنولوژی با vSphere و VMware، فارغ از اینکه روی برنامه‌های حساس کسب‌وکار، Desktop‌های مجازی یا برنامه‌های اتاق سرورهای Remote اجرا شود، آنرا به ساده‌ترین پلت‌فرم ذخیره‌سازی برای ماشین‌های مجازی تبدیل می‌نماید.
فرمت : PDF – زبان : اصلی (انگلیسی)
English | 2016 | ISBN: 0134511662 | 361 Pages | by Cormac Hogan and Duncan Epping
Plan, implement, and manage VMware's radically simple, enterprise-class software-defined storage platform.
VMware's Virtual SAN has rapidly proven itself in environments ranging from hospitals to oil rigs to e-commerce platforms. Along the way, it has matured to offer unsurpassed features for data integrity, availability, and space efficiency. Virtual SAN 6.x makes all-flash storage practical for even more use cases, while radically simplifying IT operations and supporting the transition to hyper-converged infrastructures (HCI). Now, the authors of Essential Virtual SAN (VSAN) have thoroughly updated their definitive guide to this transformative technology. Writing for vSphere administrators, architects, and consultants, Cormac Hogan and Duncan Epping explain what Virtual SAN is, how it has evolved, what it now offers, and how to gain maximum value from it.
Hogan and Epping draw on unsurpassed experience shaping Virtual SAN and helping VMware customers deploy it. They offer expert insight into preparation, installation, configuration, policies, provisioning, clusters, and more. You'll also find practical guidance for using its new Health and Performance Services to gain end-to-end visibility into infrastructure and resource consumption. Both an up-to-the-minute reference and hands-on tutorial, Essential Virtual SAN, Second Edition uses realistic examples to demonstrate the immense power of Virtual SAN 6.x. You'll learn all you need to successfully plan and deploy the newest versions, and operate them smoothly and efficiently.
Coverage includes:
– Understanding the goals and concepts of Software-Defined Storage and Virtual SAN
– Meeting updated requirements for safe Virtual SAN 6.x implementation
– Architecting, installing, and configuring Virtual SAN for your unique environment
– Simplifying deployment with VM storage policies and provisioning
– Controlling availability, performance, and reliability
– Efficiently managing and maintaining Virtual SAN
– Providing resiliency and scale-out storage functionality
– Designing and sizing clusters (with examples)
– Using stretched clusters to address rigorous downtime requirements
– Applying valuable new features such as deduplication, compression, checksums, and encryption
– Using Health and Performance Services to troubleshoot hardware, configurations, and performance